(Register Now)
NO REFUNDS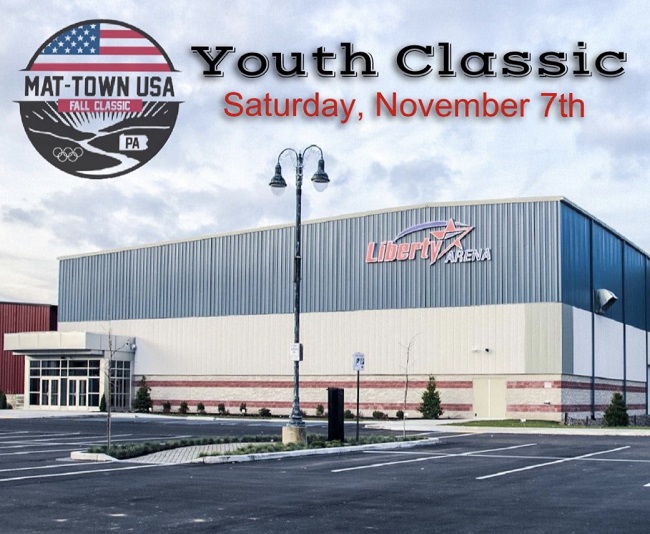 2020 Mat~Town Youth Classic
Bantam_8_Under: 40,45,50,55,60,65,UNL
Midget_9_10: 55,60,65,70,75,80,85,95,105,120
Cadet_11_12: 55,60,65,70,75,80,85,90,95,100,108,120,135,155
Junior_13_14: 75,80,85,90,95,100,108,115,122,130,138,145,155,165,185,210,UNL


Location: Liberty Arena, 315 Hepburn St, Williamsport, PA 17701

Liberty Arena offers many onsite attractions including a restaurant, bowling alley, arcade, trampoline park and much more.

Check it out at www.thelibertyarena.com

Weigh~Ins: Friday, November 6th, 7~8 p.m. TBD
Saturday, November 7th ~7a.m.~8 a.m.


All Divisions begin wrestling at 9 a.m.

All divisions will be 1 ~1~1 except Junior High will be 2~1~1

Pre~registration Entry: $45 (Plus $3.00 Online Registration) (Until filled at 200 wrestlers)

Awards will be given to the Top 3 wrestlers at each weight.

Admission: Adults $15 /Students: $5.00

This is event is open to the public, no outside food or beverages allowed.

Concession will be open along with an onsite restaurant.

For questions email cdelattre@hotmail.com

Hotel Blocks for this event have been set up at the Hampton Inn Downtown and Hampton Inn ~ Faxon St. for $79.00/night under Mat~Town.