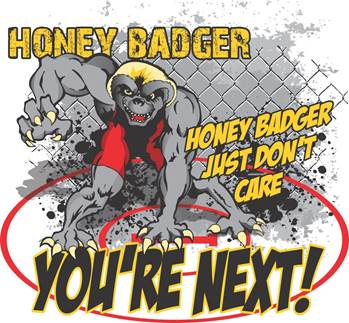 7th Annual Honey Badger Tournament
(High School Division Registration)
Oct 13, 2018
St. Stephens High School, Hickory, NC
Registration Deadline: Noon Oct. 12, 2018
High School (Grades 9th through 12th)
106, 113, 120, 126, 132, 138, 145, 152, 160, 170, 182, 195, 220, 285
Wrestler must make weight or forfeit entry fee.

Entry Fee: $32.00
Early Friday Weigh-in: Oct 12, 2018 6 p.m. to 8 p.m. St. Stephens High School
Saturday Weigh-in starts at 7:00 am - Closes at 8:30 am
Wrestling begins at 9:30 am
Admission Fee: $5.00
Admission Fee Waived only for Coaches with Valid High School Coaches Cards.
Awards:
High School Division: Honey Badger custom medals (Gold, Silver, and Bronze) for top 3 placers in each weight class.
Champions in each high school weight class will be awarded a 'Crown of the Beast' Honey Badger Cliff Keen Headgear or Honey Badger Singlet.

For Middle School registration please click here: *7th Annual Honey Badger Middle School*
Contact: Roy D. Hoffman, Jr.
4097 County Home Road
Conover, NC 28613
cell: 828-324-7621